The transport options are part of the terms and conditions.
Goods declared as in stock and ordered up to 12AM on a business day are usually dispatched on the same day. Orders after 12AM or on weekends and holidays are dispatched the next business day.
The shipping price is based on the weight, size of the shipment and the country to which we will deliver the shipment.
The exact and binding price for shipping is always quoted in the shopping cart before completing the order.
Shipping is realized out by these carriers. Final delivery can be made by local carriers.
Transport company GLS
 According to the EU regulation, we are obliged to apply VAT to the goods in the amount of the country to which the goods will be delivered. Due to the change of the country of delivery, the total amount of the order may change. To correctly display the prices valid in your state, set the delivery state in the main banner, see the image.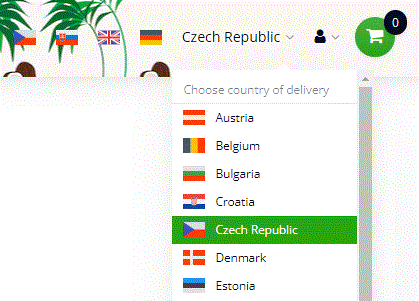 Summary of basic shipping information
1. Complete and truthful information such as telephone and email contact increases the success rate of delivery several times over. Please check the information in the confirmation email and contact us in case of any discrepancies, preferably before the shipment is sent.
2. The delivery time in the EU is on average 3-5 days from dispatch. Storage of the shipment is possible on average 5 days. Please actively monitor the path of your shipment and contact us or the shipping company directly in case of any discrepancies.
3. We are able to ship almost all over the EU yet there are exceptions where we cannot. We are unable to deliver to Malta, Cyprus and the island states of Spain, Italy, the UK and others. Delivery to countries not listed in the shop cart is always contractual. The shipping price is quoted based on the customer's request.
4. Carriers are allowed in some countries to leave the parcel stored at the nearest possible parcel shop without attempting delivery to the destination address. The consignee is notified by the carrier of the deposit. This is generally the carrier's practice in less accessible areas. 
5. In the event of damage to the parcel, a claim must generally be lodged with the Seller (by phone or email) within 2 days. The addressee must retain the entire contents of the shipment + packaging material. The addressee must draw up a damage report with the delivery driver. If the report is not made, it is not possible to claim damage.
These transport options take effect on 1.11.2018